Operation and maintenance manuals are developed to the client's specifications. Typically, operation and maintenance manuals contain safety information, general information about the equipment, operation information, and maintenance procedures.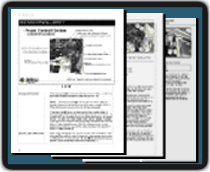 When developing operation and maintenance manuals, Seatech Publications, Inc., follows the philosophy that the operator should be instructed on how to use each function of the equipment. These functions are approached from a system standpoint. Also, we believe that each maintenance procedure should be illustrated in an easy-to-follow, step-by-step manner.
Operation and maintenance manual development projects can include the additional enhancements of interactive applications for operation information, daily maintenance procedures, and walk-around inspections.