Seatech Publications, Inc., can develop parts manuals from a bill-of-material database and CAD drawings using database publishing techniques.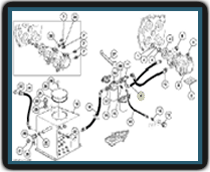 If these resources are not available, parts manual pages can be developed from paper-based sources and can include the creation of electronic technical illustrations and exploded view drawings.
The structure and format of the parts manual can be client-specified or can be designed at Seatech.