Seatech Publications, Inc., service manual development philosophy has evolved from extensive field experience in the heavy-equipment industry and from experience gained from developing manuals for military equipment.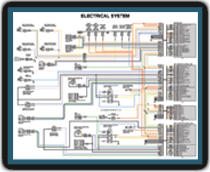 The primary focus of our material is to provide service personnel with the means to efficiently troubleshoot, identify, and repair the root cause of a failure, or to efficiently remove, install, disassemble and assemble components.
Our service manual product offerings include:
Specifications,
Systems Operation,
Testing and Adjusting,
Electrical and Hydraulic Schematics, and
Disassembly and Assembly modules.