Seatech Publications, Inc., provides on-the-job training (OJT) for paving and compaction crew members.
Often, the training is a combination of classroom, controlled hands-on training, and on-the-project training. In this fashion, the trainers teach theory as well as practical hands-on skills.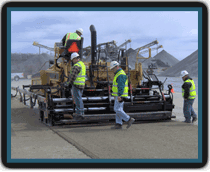 Classroom instruction is usually limited to a review of fundamentals but can include advanced topics as well.


Controlled hands-on training provides an opportunity for crew members to practice newly learned skills in a slower-paced environment, normally at a pit or plant using granular material.


Instructors coach crew members during on-the-project training. Normal production should not be affected.
Instructors verify skill development among crew members and work side-by-side with crew members and on-site supervisors. OJT can be customized to meet specific project requirements.
Seatech Publications, Inc., can provide Caterpillar®'s "Paving Operations Training" or "On-the-job Crew Training" courses at dealerships or customer locations.