Seatech Publications, Inc., offers classroom seminars for paving operations and for asphalt compaction operations.
Each seminar is one day in length.
Each session starts with a review of the fundamentals of asphalt paving or asphalt compaction. Then each subsequent session builds on the fundamentals by providing
specific instruction
on the use of: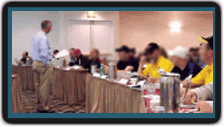 paver grade and slope
compactor frequency / amplitude /speed
balancing production between the paver and the compactor
aspects of commercial paving
paving for smoothness
job studies with focus on International Roughness Index and Profile Index
job studies on Superpave compaction.
Seminars end with a 50-question quiz which is graded and reviewed in the classroom. Seatech Publications, Inc., provides each student with a full set of handouts plus self-study material. Seminars can be customized to meet specific requirements.
Seatech Publications, Inc., can provide Caterpillar®'s "Paving and Compaction Seminar" course at dealerships or customer locations.