Seatech Publications, Inc., offers comprehensive technical training for paving equipment and earthmoving equipment. These classes combine classroom (50%) and hands-on labs (50%). Topics include systems operation, testing and adjusting, and troubleshooting. Typical classes are three to five days.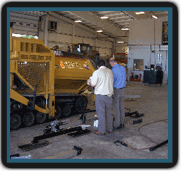 Students who attend Seatech technical training must be able to read schematics and wiring diagrams and should have a background in the basics of hydraulic and electrical systems. This technical training does not focus on daily maintenance procedures, but teaches advanced technical skills.
Equipment technical training is organized to cover each machine system one at a time. Students learn system operation in the classroom, and then, go directly to the lab area. The hands-on lab challenges the student to demonstrate proficiency in testing and adjusting or troubleshooting the system that was just covered in the classroom. Written quizzes at the end of each machine system study further reinforce the learning process.
Technical training can cover one type of equipment or multiple types of equipment and can be customized to meet specific machine system requirements or time constraints at the request of the contractor.